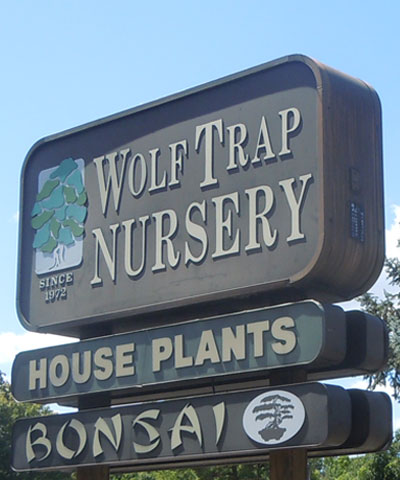 Get to know about
Wolf Trap Nursery
Blair and Dorothy Cupp founded Wolf Trap Nursery in 1972 with a vision of providing high-quality plants at reasonable prices to people in the surrounding communities. Although much has changed in the years that have passed, today we remain committed to the same principles of quality, value, and customer service. We continue to operate from the same location just 3½ miles west of Tysons Corner on Route 7 and are convenient to the nearby communities of Vienna, McLean, and Reston; the Beltway; and areas beyond.
We sell house plants, annuals, perennials, trees, shrubs, seeds, bulbs, and Christmas trees. We also sell pots, fertilizer, pesticides, and repellants. We are known for our bonsai, and in addition to selling bonsai plants, we sell bonsai soil, pots, and supplies. We also offer bonsai workshops.
We are a pet-friendly nursery and welcome your well-trained and non-aggressive pets. If they're good, and with your permission, we may give them a little treat!
Finally, as a small "mom and pop" nursery, we take pride in offering customer service that is unavailable in the big box stores and chains. From helping to load your car to answering your questions, our knowledgeable staff is ready to help make your visit a pleasant one.