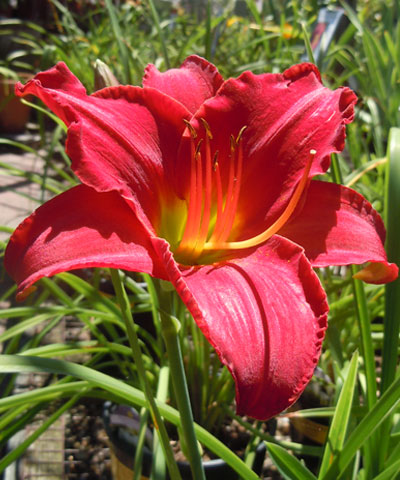 A year in the life of
Perennials
Perennials are plants that live from year to year. They come up in the spring, produce flowers, die down to the ground in the fall, and lay dormant in the winter. Then they awaken the next spring, refreshed and ready to do it all again. Although some perennials have an extended bloom period, most just have several weeks of glory, and then they revert to a green plant.
We have perennials for shade, perennials for sun, and lots in between. Use them to form a border along a walk, create interest in a woodland garden, or provide the focal point in a rock garden. You might also use them to create a butterfly garden or to attract hummingbirds to your yard. Some of our favorite perennials include Hostas, Bleeding Hearts, Echinacea, and Black-Eyed Susans.
You can find these and many more flowers at Wolf Trap. Remember, we're here to help, so ask us, and we'll be happy to help you select perennials that go together and are well-suited to the conditions in your yard.